VexlCare Orthopedic Lumbar Stretcher
Sale price Price $44.95 Regular price $74.95 Unit price / per
Combat Dreadful Back Pain and Poor Posture With Just 10 Minutes A Day!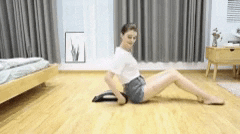 Daily activities, sitting all day, extended computer usage, or physical activities can lead to spine and posture imbalances. Say goodbye to sciatica pain and poor posture, and discover the ultimate back pain relief tool.
HOW DOES IT WORK?
When laying down on the back stretcher, gravity allows the front of your body to effortlessly stretch out and upwards, and the surrounding muscles start to relax, gently decompressing the discs in your vertebrae, realigning the spine, relieving tension and pain. You'll be amazed by how good you feel after just one use!
RELAXATION AND RELIEF - Professionally tested, the Lumbar Stretcher is able to help relieve tension, treating pain from muscle spasms, pinched nerves, herniated discs, sciatica, degeneration, tight knots, excessive flexion and more! Simple to use, portable for easy travel.
EFFECTIVE ACUPRESSURE- Our device has 88 plastic pins that brings acupuncture effects by deeply pressing the specific acupoints. These help activate the natural healing response and improve the blood circulation to give you complete back pain relief, spinal pain, muscle pain, etc.
STURDY MATERIAL - Able to withstand weight up to 200kg/450lbs and won't get out of shape even if folded. If it breaks, we'll send you a new one, for FREE!
ADJUSTABLE STRETCH LEVEL - The orthopedic lumbar stretcher has 3 slots for height adjustment, designed for people of all ages. The higher the back stretcher lifts, the stronger stretch you will get.
ERGONOMIC DESIGN - Basing on ergonomics concept, the contour of the lumbar traction device is in standard body curve to provide better spinal alignment and efficient acupressure massage. The foam pad in the center of this lumbar back stretcher gives cushioning to ensure your spinal feel comfortable.
MULTI PURPOSE - The lumbar alignment stretcher can be used whenever you are lying or sitting. The back alignment device can be placed on a chair to help correct your sitting posture, or car seat to serve as a lumbar support for car that helps reduce the tiredness especially for long time road drive.